CMASS 4/27/13 Amesbury, MA
Click on any picture to enlarge
Soyuz lift off on 17 motor cluster flight 2 video Rocketry Forum thread
Modified build of the Vostok kit by Cosmodrome Rocketry. 60.5 inches tall, 1/33 scale.
Flight weight 10lbs, including 2lbs of motors and 1.5lb nose weight.

1x ProX F30 (24mm 3grain 73Ns) + 8x Estes E9 + 8x Estes D12
433Ns total impulse = I impulse
198N average thrust, average burn duration 2.2 sec, with the E9 burns ending at 2.8 sec
At about 1pm on a beautiful spring day, the Soyuz lifted off on a column of fire and smoke for a very nice flight.

All 17 engines fired and both Top Flight Recovery 45 inch chutes deployed cleanly. This second flight was nice and straight, without the coning seen on the first flight. The boosters remained firmly attached to the core as intended, and all major sections of the rocket are in great shape.
The excellent Rocketflite CF igniters are mostly wired in series strings of 2 and then those are joined in parallel, reducing total current load.
Featherweight Raven altimeter reported these
maximum values:

acceleration: 7.0 Gs
velocity: 109 mph
altitude: 709 ft
Spinning Saucer of the Apocalypse

flight 8 2012 flights Rocketry Forum thread playlist of SSoA videos
Lifted off on 1x H54 + 1x G54 (both Pro-X 29mm 3 grain loads) + 8x D12.
Experimented with higher total lift impulse for this flight, got slightly more altitude but saucer landed at an angle. Saucer is still in great shape.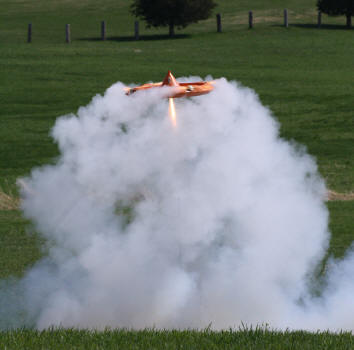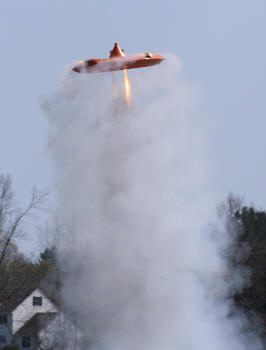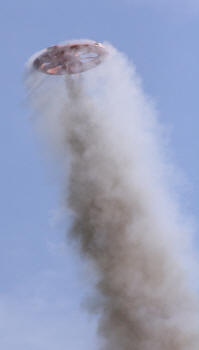 The Turbine Rocket Saucer went up for its 37th flight (no pictures) and ...
English Electric Thunderbird 2012 flights Rocketry Forum thread Not my rocket - What happens if parts
flight 10: 1x F30 + 6x E9-6 + 4x D12 playlist of Thunderbird videos are left out during motor assembly