LDRS XXXI - Day one - 7/12/12
Midnight Express video of flights 1+2 playlist of all Midnight Express videos Rocketry Forum thread
3.4x upscale Estes Big Daddy. 68" tall x 10" diameter, 30 lbs without motor. Project was built to go for my L3 certification at LDRS.
First flight: CTI/AMW L820 Skidmark. Used a spacer to put the 3 grain load in a 4 grain 75mm case. First flight for this beast and my first L.

Flight went up well on a noisy column of smoke and a huge shower of sparks, reaching an altitude of 2608 ft. Gotta love a big sparky!

Pics include the required guy standing next to his rocket. Science Channel set up a few video cameras for this flight, and about one second of this liftoff made it into their LDRS XXXI show.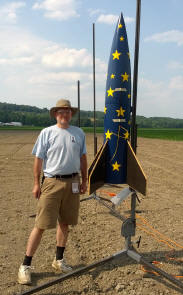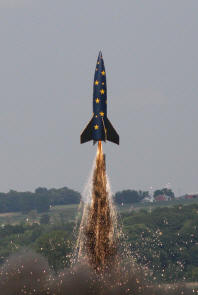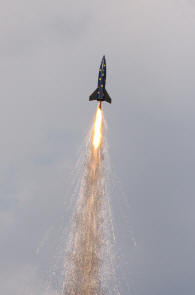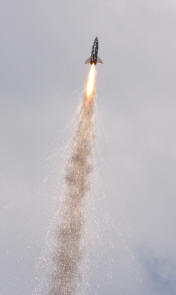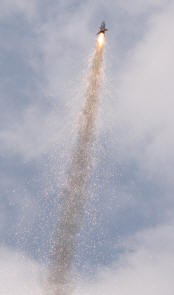 Our setup area as others continued to arrive. Day one gradually got busier as the day progressed.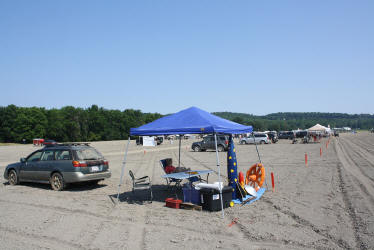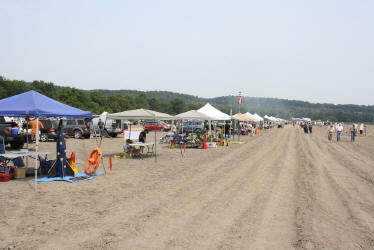 This one burned intensely for a while... some other folk's flights. Plus my Turbine Rocket Saucer went up for the first of 3 flights at LDRS.